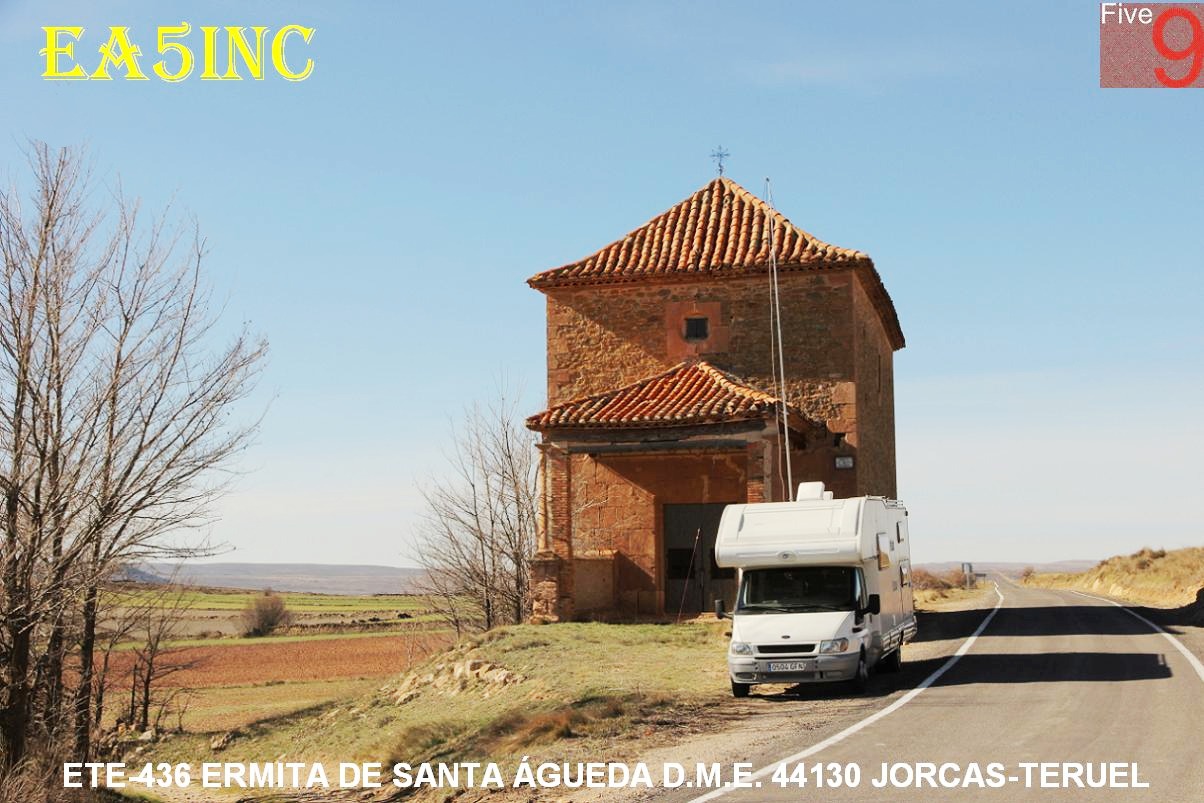 Jorcas es una localidad y municipio de la provincia de Teruel, en Aragón, España. Está situado a una altitud de 1.357 metros sobre el nivel del mar  y tiene una estensión de 26,20 kilómetros cuadrados. Tiene una población de 38 habitantes (INE 2.016). La Ermita de Santa Águeda es una obra barroca de mampostería y cantería del 1.748 y restaurada en 1.963.
Jorcas is a locality and municipality of the province of Teruel, in Aragon, Spain. It is located at an altitude of 1,357 meters above sea level and has an extension of 26.20 square kilometers. It has a population of 38 inhabitants (INE 2,016). The Hermitage of Santa Agueda is a baroque work of masonry and stonework of 1,748 and restored in 1963.
El pasado día 18/03/2017, el Five By9 Dx Group Activations, procedió a la pequeña activación de la ermita de Santa Águeda con las siguientes referencias ETE-436 para diploma ermitas de España y 44130 Jorcas-Teruel para diploma municipios de España, en esta ocasión los operadores fueron EA5TW Alf  y EA5INC Raquel. El indicativo utilizado EA5INC, se trabajó en la banda de 40 metros en SSB con un total de 165 comunicados, daros las gracias a todos por la participación y nos encontramos en las siguientes activaciones.
On 03/18/2017, the Five By 9 Dx Group Activations proceeded to the small activation of the hermitage of Santa Águeda with the following references ETE-436 for diploma hermits of Spain and 44130 Jorcas-Teruel for diploma municipalities of Spain, On this occasion the operators were EA5TW Alf and EA5INC Raquel. The indicative used EA5INC, worked in the band of 40 meters in SSB with a total of 165 releases, thank you all for the participation and we are in the following activations.
Descarga el Log en formato pdf, download Log in pdf format:
ETE-436 E. Sta. Agueda 44130 Jorcas-Teruel